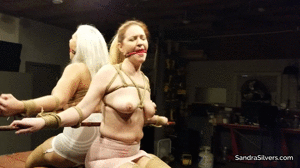 16:28 video
Two Buxom MILF Subs, Two Bamboo Poles, and Multiple Ballgagged Bondage Orgasms!
Submissive sisters in sexual servitude - wearing nothing but nude silk stockings and soft pink and white vintage girdles covering the curves of their hips - kneel waiting for their Master. Tied together, back to back on his workbench, arms out to either side bound to two bamboo poles, red ball gags forced between their teeth, their cherry colored lips pried wide open, allowing dribble to run over their bare breasts.
Sandra, silver hair flowing loose, has her massive mammaries tightly tied, while Lisa's blond locks are in a high ponytail, her ample bosom framed by her tit tie but left free to swing with her struggles.
Entering the workshop, He retrieves a wand and, after admiring the view his two salacious sex slaves create, drool flowing freely, vibes first Sandra then Lisa to orgasm. Their muscular Master groping glorious globes, pinching nipples between his knuckles, gripping their hair and neck he tips back their heads, giving naked chests a break from their drool he lets the girls feel the copious amount of fluid slide down their throats instead... Every action deliberately delivered to enhance their orgasm agony.
We watch first Sandra, then Lisa; once more for each woman, the wickedly wonderful wand. Un-gagging each gal before pushing the pulsating perpetrator of pleasure into their throbbing pussies - loud, uncontrollable pleasure. Muscles tensing and straining as they cum, the vicious vibrator forcing several simultaneous, incredibly intense orgasms out of each girl.
They've served him well and he leaves the two to recover, supporting each other in their bondage.