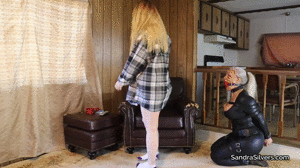 The Breaking In and Training of a Sex Slave - Human Ashtray Obedience Test!
Forniphilia! Wand Masturbation! Orgasm Frustration!
Part 3 in a 4 Part Custom Video Series!
Our curvy captive is clad in catsuit, corset, feet bare but for sheer black pantyhose covering her soles, a red leather gag and leather O ring collar. She is waiting for instruction. Kneeling ball gagged and strapped in place in her submission. Her Mistress enters; night shirt falling open to reveal her naked form underneath the check flannel. Cute toes covered in sports socks, she pads across the trailer to fetch herself a beer from the fridge. Returning, Lisa leans over to remove the gag from Sandra, only to immediately replace it with another ball-device of achingly jaw stretching properties. Relaxing into her easy chair for TV and that satisfying first smoke of the day, Lisa makes use of her human ashtray, tapping the hot ash into such a fetchingly fashioned ashtray held for her in the mouth of her slave. Leaving her cigarette smoldering in its obedient orifice, Lisa fetches her favorite wand, the black device pressed into her smooth, shaved pussy as she reclines back on the ripped leather armchair to enjoy her moment of masturbation as all Sandra can do is watch...