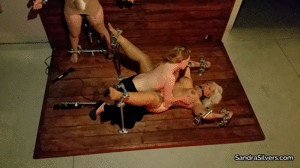 20:22 video
Secured In Steel, Sandra & Salena get Intensive Orgasm Endurance At the Hands of Lovely Lesbian Lisa! MILF-MILF Sex in Bondage! Forced Orgasms!
Luscious Lisa, long blond locks flowing over her shoulders and bare breasts, struts in on skyscraper stilettos. She enjoys having pretty things ready and waiting for her attentions, and this pair are pleasing to the eye indeed, in their vintage bottom girdles and nude stockings, secured in steel just as she had requested.
Salena, the long limbed British bird with pert, perky tits, is standing to attention, ball gagged and back to the wall, her head held high from the metal at her neck. She's wishing she could watch what is happening below her... But with the wand between her thighs turned on her only thought becomes of the relentless vibrator jammed into her crotch, her knees begin to buckle and soon the cold bars of steel holding her are both her savior and her curse.
Sandra, a silver haired, curvaceous MILF, is recumbent on the floor, ankles spread high and wide by stirrups of steel, arms held up at each wrist, a ring gag deep between her teeth, allowing her expert tongue to dart and flick between stretched lips to Lisa's eager pussy lowering over her face, the pair sixty nine, giving as much fun as they are getting! Then the power ramps up as Lisa puts their wands into play, making full use of the fine form before her, squeezing Sandra's ginormous globes as she gets herself off.
Soon all three are screaming as they cum, red lips parted wide, loud mmmpphs and gurgles escape the gags, just as freely as the drool. Lisa finishes, somewhat reluctantly, remembering she must get ready for an afternoon appointment. But she's not done with her playthings yet... They will just have to wait, and endure, till her return.